Guide Book and Video Coaching
​This informative and detailed e-book will walk you through every aspect of the symphony orchestra audition process for your upcoming orchestral audition. Included is a 6-week step-by-step program, invaluable audition tips, and a guide to available positions.
Only $9.95 (a $79 value)
Shop Now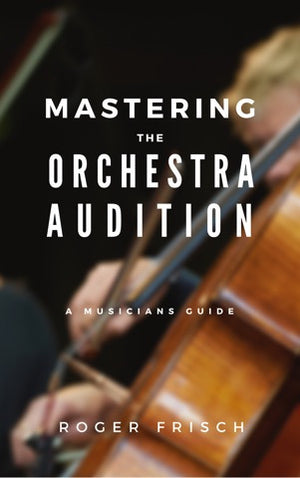 Mastering the Orchestra Audition Guide Book
Sale price Price $9.95 Regular price $79.00
About the author
Roger Frisch, former associate concertmaster of the Minnesota Orchestra and international soloist, has had the privilege of coaching many musicians for symphony orchestra auditions over the years. When not performing, he spends time giving seminars nationally, or coaching - in person or online - musicians preparing for orchestral auditions.
He received his early musical training from his father, Wilbert Frisch, longtime associate concertmaster of the Pittsburgh Symphony Orchestra. He earned a bachelor's degree from the Cincinnati Conservatory of Music, studying with Henry Meyer of the LaSalle Quartet, and a master's degree from Indiana University, where he studied with the renowned pedagogue Josef Gingold. First prizewinner of the Hermann Violin Competition and the Coleman International Chamber Music Competition, Frisch enjoys a wide-ranging career as soloist, chamber musician, pedagogue and orchestral player.